All the windows lovers who love Garage Band, well need not worry, if not garage band but there are few other software which are worth to take a look at.
What is Garage Band?
This is what apple says "Welcome to the school of rock. A Mac-sized practice space. Your own recording studio. If you want to learn to play an instrument, write music, or record a song, GarageBand can help — whether you're a rookie or a rock star.
Garage Band


Garage Band Alternatives to Windows
Mixcraft.

LMMS - Linux Multimedia Studio.

Adobe Audition.

Sony Acid

Band in a box

Sonar Home Studio

Reason

FL Studio
Clear, colorful, and intelligently designed interface to streamline your work.

Custom loop library includes hundreds of royalty-free sounds in dozens of musical styles.

Works with Acid™ and Apple Garage Band™ loops.

Record multiple MIDI and audio tracks simultaneously.

Piano roll to view and edit MIDI.

Includes a General MIDI library, two sampled grand pianos, Hammond B-3™ emulator, MiniMoog™ emulator and a polyphonic synthesizer.

Includes 18 high quality effects.

Create mega presets that layer and split multiple virtual synthesizers and effects.

Add unlimited VSTi™ instruments, VST™ and DirectX™effects.

Mix down to MP3, WAV and other audio file types.

Burn CDs of your mix with just one click.
For More information visit
Mixcraft
LMMS is a free cross-platform alternative to commercial programs like FL Studio®, which allow you to produce music with your computer. This includes the creation of melodies and beats, the synthesis and mixing of sounds, and arranging of samples. You can have fun with your MIDI-keyboard and much more; all in a user-friendly and modern interface.
For more information visit
LMMS-(Linux Multimedia Studio)
Adobe Audition 3 software is the all-in-one tool-set for professional audio production that allows you to record, mix, edit, and master digital audio. Adobe Audition delivers the flexibility you need to produce professional results for all your audio and video projects and gives you pinpoint control in an intuitive, easy-to-use environment. Whether you are composing music, recording and mixing a project, producing a radio spot, cleaning up production audio for a movie, or designing sound for video games, Adobe Audition 3 provides the powerful tools you need to get the job done.
This is what their site says - " If you're serious about making your own music, ACID Music Studio software is the perfect tool for original song creation, multitrack audio and MIDI recording, and studio-quality mixing, and effects processing. Share your songs any way you want — burn your own CDs, upload to the web, prepare audio for podcasts, or export to your MP3 player."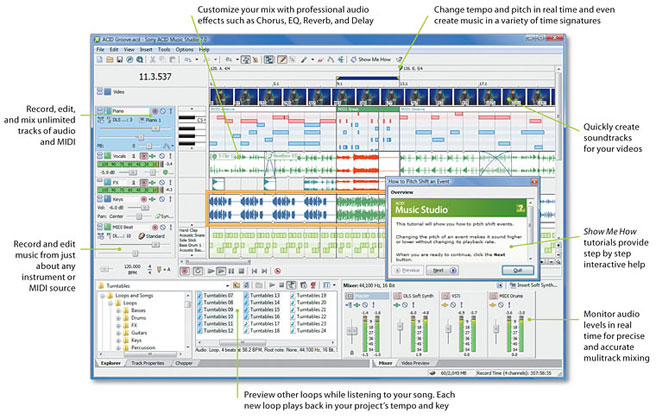 For more information visit
Sony Acid
Band in box - This is what their site says - "
Band-in-a-Box is an intelligent automatic accompaniment program for your multimedia computer. You can hear and play along to many song ideas, and go from "nothing" to "something" in a very short time with Band-in-a-Box as your on-demand backup band.
There are many more reasons that Band-in-a-Box is a favorite of musicians, students, and songwriters the world over. To see for yourself, you can click on the Band-in-a-Box forum and guestbook links on this page and share the experiences of other users in your own language."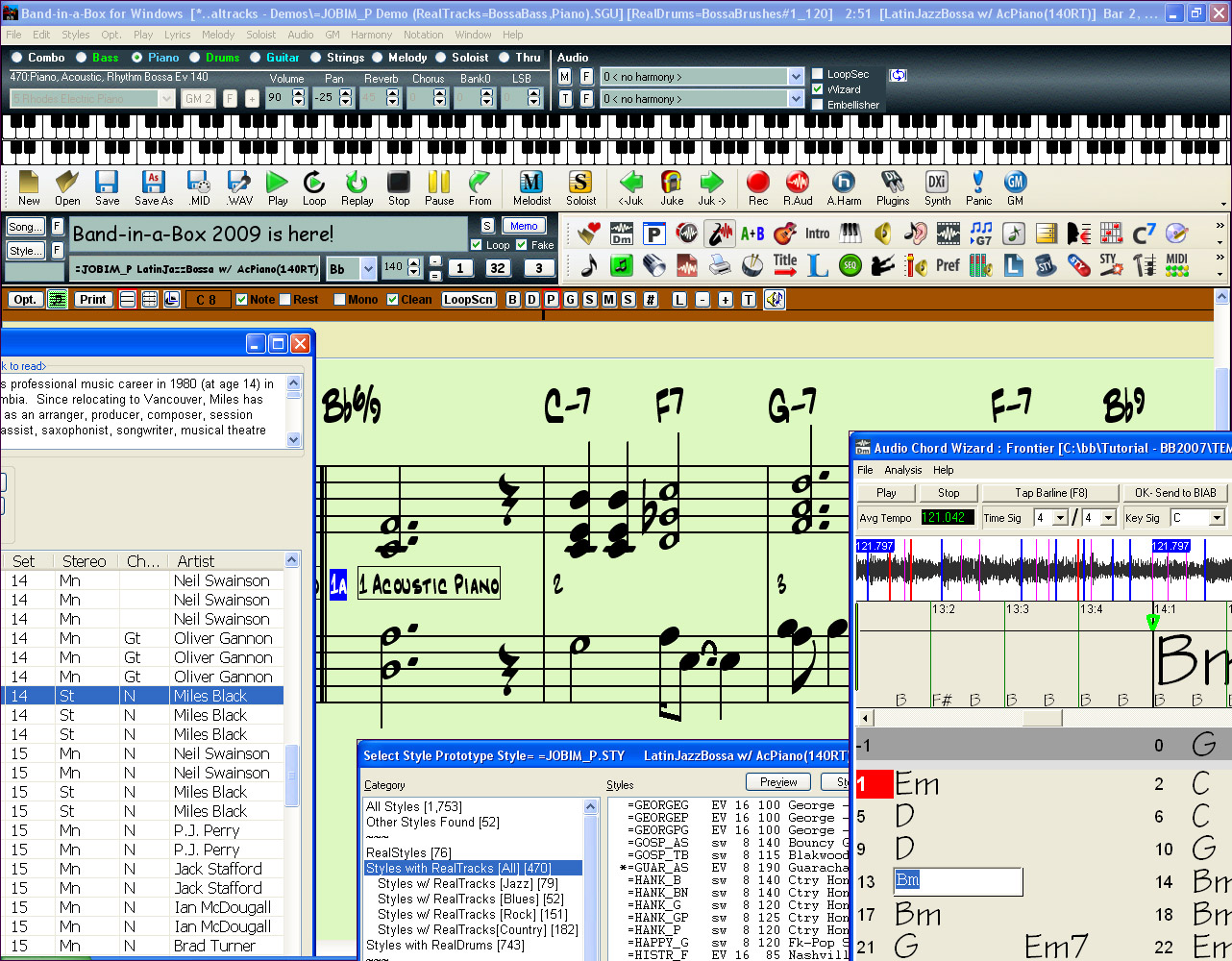 Visit band in a box for more information
Sona says-"With SONAR Home Studio you can record live instruments, vocals, or any audio source. You can easily edit audio, MIDI, and music notation. The updated Loop Explorer gives you the tools to build backing tracks faster than ever. Add real instrument sounds using the included virtual instruments suite. Bring your mix together with studio-quality audio effects and professional mixing tools. When you are finished, share your music on the web or burn it to CD for fans, friends, and family."
Reason is a virtual studio rack with all the tools and instruments you need to turn your ideas into music. And it's more than just a set of excellent synths and effects. It's a complete music system. Step into the age of Reason. Reason comes with synthesizers, samplers, drum machine, REX file loop player, professional mastering tools, mixer, vocoder, world
class effects, pattern sequencer and more. As many of each as your computer can handle. Reason is an infinitely expandable all-in-one music production environment, complete with its own realtime sequencer.
For more information visit Reason
FL Studio is the most complete virtual studio currently available. It will play any sample file (wav), generator (softsynth), VSTi & DXi) or midi instrument you feed it.
For more info visit FL Studio
Share your thoughts and tell if i have missed any of your favourite software!
Now that you have read,
Next is What?
if you like it ,
REALLY
like it then consider for
BOOKMARK n SHARING IT!!!